手術立體定位系統-RM(RM Stereotactic System)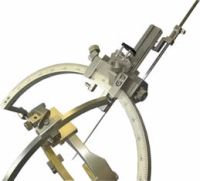 Easy Handling with High Precision
The RM System possesses a 3 point fixation. This gives the system a very high stability and the highest precision. The system is based on the polar coordinate principle. It was developed by the famous stereotactic professors Traugott Riechert and Fritz Mundinger.
Utmost precision and compliance to high demands in stereotaxy distinguish the system. The characteristic of the RM aiming bow is his flexibility. Side angle, height angle and inclination horizontal and inclination vertical are freely selectable. This feature enables uncompromising accesses.
The RM system is one of the most precise targeting systems, specially designed for stereotactic interventions in neurosurgery. Equipment to perform brachytherapy can be adapted. The extreme accuracy and stability of the whole system is especially recommended for interventions in functional stereotaxy.
Features:
Polar coordinate system, which enables five set-up parameters for more precision

3 point fixation for high stability

Trepanation in target direction

MicroDrive

with depth sensor for Micro Electrode Recording

Target point verification with target point simulator

Free of artefacts, optimized for medical imaging

Compatible with

Inomed Planning Software IPS

and Stereoplan Plus®